Through the four strands of the braid, we learn together as a school community.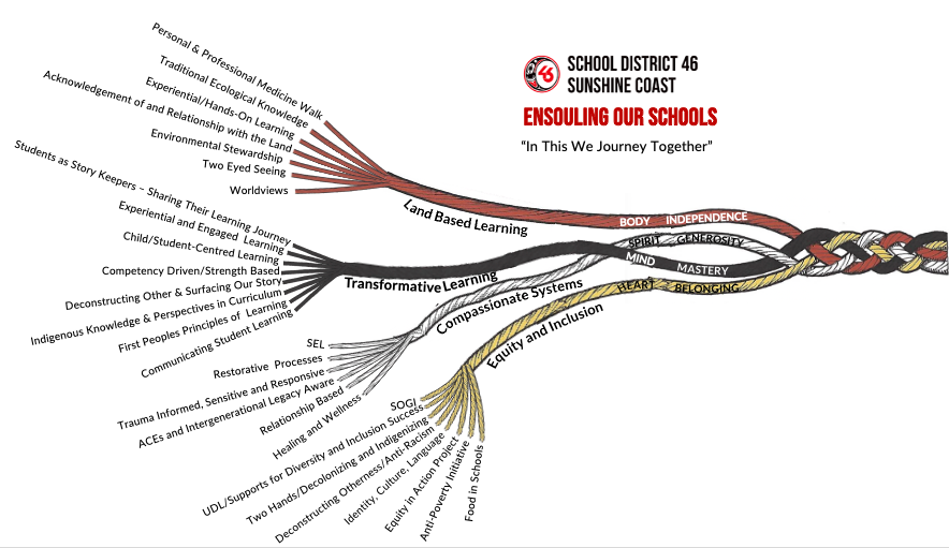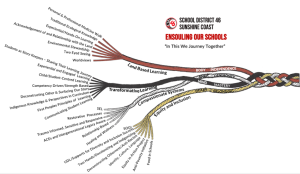 DEMOGRAPHICS
Historically the First Nations settlement of kalpilin, within the traditional, unceded lands of the shíshálh Peoples, PHSS is a small rural high school on the north end of the Sechelt Peninsula on the Sunshine Coast. We have 68 students in our school family and our goal is to create opportunities for students to experience success and create their best possible story. Our goal is based on the teachings of Richard Wagamese:
VISION:
"All that we are is story. From the moment we are born to the time we continue on our spirit journey, we are involved in the creation of the story of our time here. It is what we arrive with. It is all we leave behind. We are not the things we accumulate. We are not the things we deem important. We are story. All of us. What comes to matter then is the creation of the best possible story we can while we're here; you, me, us, together. When we can do that and we take the time to share those stories with each other, we get bigger inside, we see each other, we recognize our kinship – we change the world, one story at a time…"
― Richard Wagamese
Our work at PHSS is grounded in our School Values:
VALUES
The Values that guide our practice are PHSS CARES :
Communication/Connection
Accountability/Aspire
Respect
Engagement
Safety
ENSOULING OUR SCHOOLS: COMPASSIONATE SYSTEMS LEADERSHIP :
"It is never the responsibility of the child/student to create a generative social field"
PHSS has done extensive work with staff and parents to educate our family about:
· Trauma Informed Practice and Restorative Practices
· Centered on the work of Bruce Perry, Carol Dweck, Kevin Lamarouex, Dr. Martin Brokenleg, and Kelly- Ann Allen
· Relationship Based: Creating a sense of Belonging and Community
· What that looks like in school: Soft Start September, Teacher Advisory Classes, Multi Age Classes, Whole School Field trips
ENSOULING OUR SCHOOLS: TRANSFORMATIVE LEARNING
PHSS has engaged in shifting our practice:
Communicating Student Learning:
"You don't know what you don't know"
-Socrates
We understand that learning by staff and students is messy and ongoing. Our appreciation for the time to work with professionals and learn from each other is powerful. Small school benefit this year: All teachers and support staff took part in our Communicating Student Learning sessions led by our District Team so that our EAs and youth worker also use the same language when they are supporting students.
· Remarkable effort by staff piloting our new reporting order for feedback describing student strengths, areas for growth and opportunities for further development.
Experiential Learning and Engaged Learning:
· Student Choice in Exploration (Passion) Blocks. Students create mini courses and the teachers/community members become the facilitators.
· Current Term offerings: Tennis/Badminton, Screenwriting, Garden Boxes/Indigenous Plants, Ultimate Skills, Welding
ENSOULING OUR SCHOOLS: EQUITY AND INCLUSION
"If basic needs are not met such as food, water, warmth and rest then a student cannot learn."
-Maslowe
"It takes a village to raise a child" (African Proverb)
Food in School
Access to Food is an issue at PHSS. Our MDI, Student Learning Data, and Teacher advisory student surveys highlight that 60% of students surveyed have breakfast 2 times or less a week. This has been a major focus for our school as we try to meet the needs of students in terms of their basic needs. Our work with Dr Martin Brokenleg's Circle of Courage teaches us that we need to address our basic needs before we engage in our work with the four quadrants of the wheel: Belonging, Mastery, Independence, and Generosity.
· We have wonderful community partners that help fill the need. Pender Harbour Community School provides four (increased from three this year) Hot Breakfasts, and supplies a Snack Fridge accessible by all students at any time with fruit, vegetables, cheese, yogurt, protein bars and granola bars. Our PAC provides a Hot Lunch once a week also to allow for one Hot meal to be accessible by students every school day (4 Breakfasts and 1 Lunch). Our Foods classes also creates meals that are packaged up for students to take home.
SOGI
PHSS is very proud of their SOGI Club. Students feel safe and welcomed at school.
A small school with a big voice. PHSS students have been leaders in District wide SOGI Events and Fieldtrips.
Equity Scan:
PHSS has been participating in our District Wide Equity Scan. Our student interviews (street data) at PHSS have reinforced the sense of Belonging created by our District Indigenous Team and School Staff for our Indigenous Students. Indigenous students at PHSS reported having opportunities to learn about and participate in cultural activities and felt proud of their identity.
ENSOULING OUR SCHOOLS: LAND BASED LEARNING
"Living the Learning"
-Lekakis
Our Goal is to provide as many opportunities for our students to gain experiences and a worldly outlook on life. That has been a challenge with COVID but we are breaking through those barriers. At PHSS we are trying to provide as many experiential and place-based learning events.
We have had over twenty fieldtrips this year on and off the Sunshine Coast. Our goal is to expose our students to other places and stories so they can have a wider lens to ask questions and learn from others outside their local community. Examples of this are our whole school fieldtrip to Whistler BC. This trip was a highlight for this year as students were able to participate in skiing, snowboarding, or sightseeing activities over three days. Through the support of our District Indigenous team, we were able to visit the Squamish Lil'wat Cultural Centre to understand the local history and how this land and the relationship with it and its people has changed over the last 200 years.
NEXT STEPS:
This School Growth Plan marks the beginning of a journey to explore how we can improve the individual stories of our students. Our areas of growth will continue to focus on the strands of the braid around Communicating Student Learning, continuing to educate our learning community about Reconciliation and how to work towards it in a trauma informed, inclusive, and equitable way.