Pender Harbour

Growing

A Family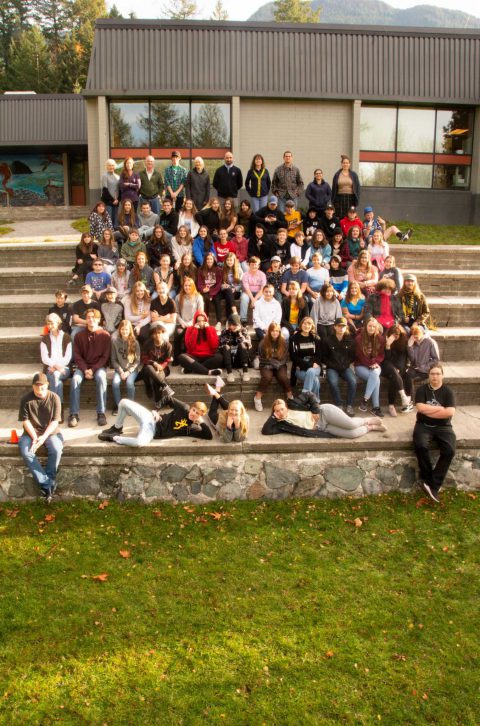 Pender Harbour Secondary serves approximately 75 students from Grades 7 to 12. Our catchment area extends from Halfmoon Bay, Madeira Park to Egmont. Our small size allows for greater one to one support from staff and creates a real "family feel" within the building. We provide a full academic program including Fine and Performing Arts, a full shop program and technology integration in the classroom. In addition, a focus on Personalized Learning allows students greater self-direction over their school program in a supported environment.
Check out the Library Learning Commons website for resources, reading lists and more. 
Questions? Please email Ms. Prasad @ sprasad@sd46.bc.ca
https://phsslearningcommons.weebly.com/
The Pender Harbour Music program is pleased to offer courses in Beginning Band, Concert Band, Concert Choir and Musical Theatre.
Young men and women can join the choral and musical theatre programs at any time in their high school careers. Choir is a welcoming environment, where you make friends for life. Our choir students perform locally to great acclaim.
We believe every student has the capacity to express themselves creatively through music. The Pender Harbour Music Program strives to instill a lasting appreciation for music.
Students at PHSS are working on many projects in our shop.  Students are creating a Tiny Home, building long boards, turning bowls on the lathe, and much more!  
Senior students enjoyed a cross-curricular trip to Thornmaby Island.
PHSS students participate in a 3 day, 2 night trip to Whistler to participant in skiing or snowboarding lessons.  Students wishing to participate in the 2020 trip can see Mr. Stoddart for more information. 
Please take a moment and download the free "MYPHSS" School APP for IPhone or Android. It is an excellent source of timely information regarding PHSS.
Important information such as bus delays and cancellations will be pushed out to your device immediately.